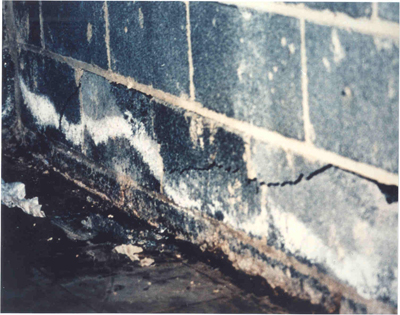 Structural damage is often an after-effect of underlying problems. Settling homes, improperly cured concrete and weakened foundations can all contribute to structural problems. When they are left untreated, these underlying problems can create a dangerous environment for you and your family. They can also devalue your home drastically. There are two basic aspects to understanding and minimizing structural damage to your house – identifying the signs of structural damage and understanding the solutions.
Signs of Structural Damage
Thorough inspections are the best way to locate any signs of structural damage. Mid-Atlantic Waterproofing happily provides FREE home evaluations providing you with invaluable information about your most valued asset. Our seasoned professionals inspect the inside and the outside of your home when many other companies only look at the inside. Here are a few signs your house may have structural damage:
leaning house
bowing walls
doors and windows close unevenly
foundation cracks
drywall cracks
uneven floors
Understanding the Solutions
The solutions for structural damage can be a multistage process. The source of the problem must be identified and corrected before the damage can be repaired, and efforts must be made to prevent the same issues from arising again. Here are the basic stages to addressing structural damage to your house:
mold and mildew remediation
foundation repairs
structural repairs
waterproofing
Mold and mildew remediation
Immediate health concerns must always be dealt with first. Mold and mildew remediation takes care of the accumulation of dangerous mold spores and repugnant mildew. When it is left untreated, mold can cause numerous health problems once it is circulated throughout the rest of your household. Mold can attach to wood, cloth, drywall and countless other items exposed to moist conditions.
Foundation repairs
Many structural problems begin at the foundation. Mid-Atlantic Waterproofing certified contractors are familiar with all applicable codes and local ordinances for protecting your most valuable asset. Foundation cracks and crumbling mortar are both signs that your foundation may have problems.
Structural repairs
Actual structural damage should always be inspected and repaired by a reliable company with a proven track record. Structural repairs may include exterior walls, interior load-bearing walls, doorways, windows and many other elements of your home.
Waterproofing
The final step to ensuring the same structural problems do not reoccur is waterproofing. Mid-Atlantic Waterproofing knows every aspect of waterproofing ranging from simple foundation crack repairs to complete crawl space encapsulations.
Proven Track Record
Mid-Atlantic Waterproofing has won several awards showcasing our dedication to our customers, including the National Association of the Remodeling Industry Contractor of the Year Award in 1997. We have been in business for over 45 years and continue to strive to be an industry leader with the latest waterproofing products and systems that have been proven to be effective and efficient. Our certified installers are always fast, prompt, courteous and thorough. No other waterproofing company has the experience and world-class service like Mid-Atlantic Waterproofing- just see what our customers have to say about us! Contact us today and see what solutions Mid-Atlantic Waterproofing's experts can offer to fix the structural damage done to your home.