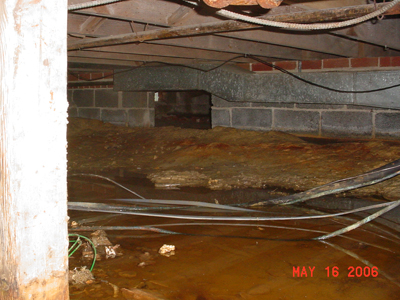 Standing water in a crawl space is a perfect place for pests, plants and mold to thrive. Pools of water do not have to exist for crawl space water problems to exist. Moisture levels above 60% have proven to be ideal for mold and mildew and wood is known to absorb water in damp spaces. Even if there is only water in the crawl space after it rains, it is a problem that needs to be corrected. Most solutions for crawl space water problems fall under three categories, or a combination of them.
Mold and mildew prevention
Crawl space encapsulation
Crawl space repair
Mold and Mildew Prevention
The presence of mold and mildew can cause poor air quality to circulate throughout your household, which can compound existing health problems or even create new ones. Preventing mold spores from reaching the rest of your home is always a crucial step.
Crawl Space Encapsulation
Encapsulation uses a combination of vapor barriers and waterproofing products while conditioning the air with dehumidifiers or modified air flow. By reducing the moisture in the crawl space, many common water problems can be fixed.
Crawl Space Repair
Of course, Mid-Atlantic Waterproofing can perform any necessary crawl space repairs to help protect your home from any additional damage created by your crawl space water problems.
Why Mid-Atlantic Waterproofing?
Although there are many different ways that water can penetrate a home, there is only one real way to configure a solution – a complete and through inspection. Mid-Atlantic Waterproofing inspectors always inspect the inside and the outside of your home when many other waterproofing companies only offer inside solutions without ever looking at the whole picture.
Mid-Atlantic Waterproofing has been in operation for over 40 years and our certified installers have successfully serviced over 100,000 households with pride and professionalism. Each of our licensed and bonded professional waterproofing contractors has been trained in every aspect of waterproofing, including foundation and structural repairs, that can directly affect the integrity of your home.
Many waterproofing products have warranties that are voided by improper installation. Mid-Atlantic Waterproofing requires each our installers to undergo additional training that is specific to each waterproofing product. It ensures every one of our contractors is more than capable of addressing your crawl space problems. In conjunction with product warranties, Mid-Atlantic Waterproofing also offers systems that have guarantees that can be transferred to new owners.
In addition to a proven track record, Mid-Atlantic Waterproofing offers a FREE home inspection to evaluate your crawl space water problems. This gives you the opportunity to learn more about your water problems with a solution in writing and absolutely no obligations from you. With the premium services we provide and the guarantees we offer, it isn't any wonder why so many customers have chosen Mid-Atlantic Waterproofing as an industry leader in solving crawl space water problems.