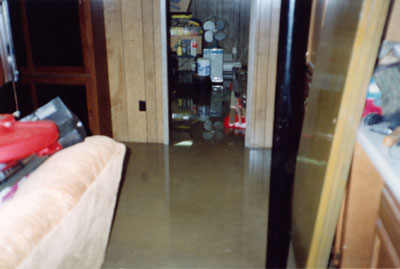 Water is a vital part of life. It is crucial for cooking, cleaning and cooling ourselves down on hot summer days. Water is also critical for mold and fungi to grow. These microscopic spores thrive in dank, moist places, like crawl spaces and basements. Many people even think a damp, musty basement is acceptable, when in fact it is not. Basement water can lead to various health concerns as well as ultimately damaging the very foundation and structure of your most important investment – your home.
Common reasons water may penetrate a basement
Poor outside grading
Clogged or nonexistent drain fields
Foundation cracks in masonry
Structural cracks below grade
Footer cracks
Seepage around bulkhead openings
High water table
Hydrostatic pressure
Blocked or improper downspouts
Air pockets under slab
When left untreated, basement water seepage can lead to many problems, including structural damage or poor air quality circulating throughout your household, which can have an adverse affect on the health of your family. Even if you only seem to get water in your basement after it rains, it can have a disastrous impact on your home.
Professional Advice
Of course, water in your basement means that there is an issue that needs to be corrected. With the dynamic ways that water can find a path into your home, there isn't any one way to correctly identify the problem. That's where the professional advice of waterproofing experts plays an important role.
Mid-Atlantic Waterproofing has addressed the concerns of over 100,000 homeowners since 1965. Our certified professionals know every aspect of the waterproofing business. We always perform thorough home evaluations that include both the inside and the outside of your home when many other waterproofing companies only inspect the inside.  We take the extra steps to ensure our installers can provide you with the most appropriate systems with the best product used for the job.
What's at stake?
Contact Mid-Atlantic Waterproofing today and let our certified professionals provide a FREE inspection with absolutely no obligation required from you. We will also answer any question you have about water in your basement and provide you with a viable solution in writing. What does that mean? That means you have nothing to lose and the opportunity to gain insightful information about the basement water problems you are experiencing. When you have the information you need to make a decision, Mid-Atlantic Waterproofing also offers the best warranties in the industry to help further protect your home. We treat your home like it's our home, and we are willing to stake our reputation on that. How many other waterproofing companies can really claim the same?