A settling house, improperly cured concrete, water, and wayward roots can all contribute to damaging the foundation of your home. Foundation issues can indicate underlying problems or even be the actual source of a bigger concern. How do you determine if you need foundation repair services? Here are a few examples that there may be problems with your foundation: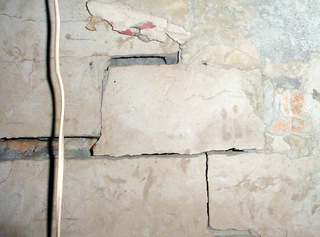 Block foundation cracks
Cracks in brick
Loose and deteriorating mortar
Bowing foundation walls
Drywall cracks
Concrete cracks
Basement mold
Basement mildew
Wet spots on the walls
Warped paneling
White powder on walls (Efflorescence)
Options
Once you have identified the problems in your foundation, it is now time to decide what to do. Your choices really boil down to three options:
Leave it untreated
Do it yourself
Seek professional advice
Leave It Untreated
Damaged foundations that are left untreated can quickly become bigger, more expensive problems. Water can easily penetrate through foundation cracks which can ultimately lead to the growth of mold and encourage pest infestations. Beyond the obvious health concerns this can create, waiting to perform house foundation repairs can also lead to other structural damages and the devaluation of your home by as much as twenty-five percent.
Do-It-Yourself (DIY)
There are many homeowners who feel they can save money by addressing the issues in their home by themselves. However, improper installation of many foundation repair systems will not only fail to work properly, but also add to the cost of doing the actual repair. In fact, warranties on many of the waterproofing products and systems, used for foundation crack repairs and other structural repairs, are often voided if they are not installed by a certified specialist.
Seek Professional Advice
Of course, professional advice from a foundation waterproofing and foundation repair company can provide valuable information about your home. Mid-Atlantic Waterproofing knows all the proper codes and the right products to use in your specific situation. Our trained professionals can answer any question you have about foundation waterproofing and foundation repairs. You should always seek professional advice.
The Right Choice
Don't wait until it's too late. The right choice starts with finding the right professionals to do the job. Mid-Atlantic Waterproofing will provide you with a FREE home inspection that can quickly ascertain your problem and provide viable foundation repair solutions that have already been proven to work. All of our certified inspectors are experts in every venue of foundation waterproofing and foundation repair services. Contact Mid-Atlantic Waterproofing today and discover why the National Association of the Remodeling Industry awarded us Contractor of the Year in 1997, along with all of the other awards we have received over the years.