August 22, 2016 3:12 pm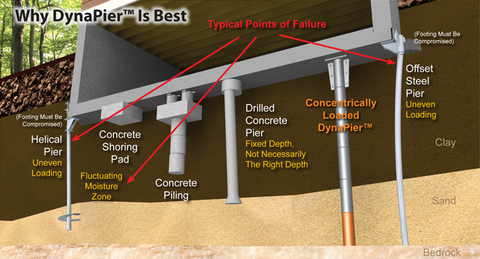 Mid-Atlantic Waterproofing has partnered with DynaPier™. Mid-Atlantic has chosen to offer their customers this new product because they believe that it is the best pier product on the market today.
The DynaPier™ system was designed to be the strongest foundation pier in the industry by combining steel and high strength concrete. The system will achieve the greatest depth while installed in a position to provide the greatest support.
The segments are hydraulically driven into the ground one at a time. After one DynaPier™ segment is driven, another segment is connected to the foundation pier, and the process is repeated until the foundation pier hits bedrock.
Installation does not require removal or breaking of the footing; footing remains completely intact. The result is a foundation that far exceeds the home's original structural integrity, making your foundation better than new.
Call Mid-Atlantic Waterproofing today to find out if DynaPier™ is the right option for your home.
Categorised in:
This post was written by Jane Azzinaro