August 22, 2016 4:13 pm
Every Monday morning, executives at Mid-Atlantic Waterproofing meet to discuss pressing matters. At one such meeting five years ago, the company's president, Ed Fennell, announced a new directive: regular charitable contributions. For every signed contract made over a two-month period through one of its six regional offices, $50 would go to a designated philanthropic organization.
The idea gained momentum after the 9/11 terrorist attacks, explains Eric Tullio, Mid-Atlantic's national operations director, but took time to hone. "Now we decide together, based on recommendations, which causes to support," he says. Thus far, the 40-year-old leading basement waterproofing company has contributed tens of thousands to the American Red Cross, Tsunami aid, Hurricane Katrina rebuilding efforts, Habitat for Humanity, the USO—and now to the Packard Center.
Support for the Center originated with a request from a Business Associate. This gentleman, who had in recent years lost his brother to ALS, and colleagues wanted to honor his memory. "I went looking for an organization devoted to ALS research," says Tullio. "Everything pointed to the Packard Center. By far it's the leader, and we wanted to go to the top." In all, the $50 taken from each waterproofing job over a two-month period netted about $35,000, but the company chipped in $5,000 more to make it an even $40,000.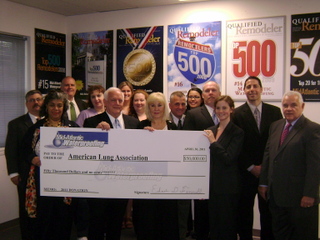 A baseball fan, Tullio knew of ALS only through what he'd read about Lou Gehrig. "Now I have a deeper understanding," he says. Meanwhile, the family who inspired the donation was touched by the decision, says Tullio, and managers alerted customers. Many expressed gratitude that the company was using a portion of their payments to advance ALS research.
Tullio and Fennell made a special trip to Baltimore last August to present the check to Center director Jeffrey Rothstein. Now the experts in sealing hidden leaks are hoping that their company's donation will help crack ALS mysteries. Mid-Atlantic Waterproofing is an expert specialty organization that focuses on the fixing and repair of problem foundations, crawlspaces and wet basements. The company presently has offices in Columbia, MD; Fredericksburg, VA; York, PA; Boothwyn, PA; South Plainfield, NJ and Yonkers, NY.