August 22, 2016 4:36 pm
Mid-Atlantic Waterproofing, a basement-repair contracting company based in Laurel, MD, is donating $40,500 to humanitarian agency Catholic Relief Services (CRS) to aid the organization's relief and reconstruction efforts in Indian Ocean tsunami-affected areas. The donation from Mid-Atlantic Waterproofing will assist CRS' work to rebuild homes, schools, businesses and trades, hospitals, markets and communities. A donation has also been made to aid Red Cross efforts in Louisiana following Hurricane Katrina.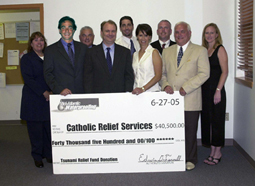 "Mid-Atlantic Waterproofing is proud to support the tsunami relief efforts. Catholic Relief Service's humanitarian commitment provides the most direct route from our hands to the people suffering the effects of the tsunami. When a world disaster occurs, we believe it is our responsibility to do our part in assisting the less fortunate in a time of need. Hopefully, donations like ours will set an industry trend to support relief efforts of any kind," said Ed Fennell, president of Mid-Atlantic Waterproofing.
From January to March, Mid-Atlantic pledged that it would donate $50 for every installation of its primary service basement waterproofing. In that first quarter, the company accomplished 810 installations, collecting $40,500 for CRS.
Categorised in:
This post was written by Jane Azzinaro