August 22, 2016 4:18 pm
(Baltimore, MD)- Mid-Atlantic Waterproofing has been named a top 500 company by Qualified Remodeler Magazine.  The magazine publishes a Top 500 list annually to recognize residential remodeling firms for six criteria of success: Annual sales volume for the previous year, total number of years in business, association membership, financial performance, industry awards and dedication to community services.  The Year 2008 Top 500 list was published in the September issue of the magazine and is available on the magazine's popular companion website at www.qualifiedremodeler.com. Companies were officially honored at a reception on Tuesday, September 9th in Baltimore, Maryland.
Mid-Atlantic Waterproofing received the National Award for Top Performer in the "Basements" category at the award reception.  "We are quite honored to be considered one of the top remodelers in the country and will continually strive to be the best in our industry. We also appreciate the recognition Qualified Remodeler has given us", said Ed Fennell, President of the Columbia, Maryland branch.  "This is our Eleventh year in the Top 500."
Mid-Atlantic Waterproofing was ranked #16 on the Qualified Remodeler Top 500 list.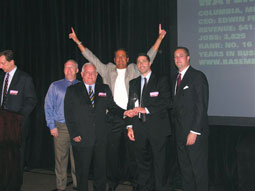 Founded in 1975 Qualified Remodeler Magazine was the first magazine dedicated to serving the residential remodeling market.  The magazine is published by Cygnus Publishing, a division of Cygnus Business Media, and serves an audience of more than 83,000 residential remodeling firms.
Mid-Atlantic Waterproofing was also ranked #14 on Replacement Contractor Magazine's Top 100 list for 2008. "We have been on this list for many years and hope to be on it many more years to come," said Fennell.  See the list at www.replacementcontractor.com
Specializing in basement/crawlspace waterproofing and foundation repair, the company has been around since 1965. Locations consist of Columbia, MD, York, PA, Boothwyn, PA, South Plainfield, NJ, Fredericksburg, VA and Yonkers, NY.  A homeowner or
Realtor may gain insight to the services available at Mid-Atlantic's website, www.basements.com
Categorised in:
This post was written by Jane Azzinaro