August 22, 2016 3:28 pm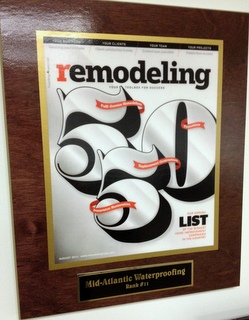 This year, Remodeling Magazine has recognized Mid-Atlantic Waterproofing among their list of Top 550 companies. Mid-Atlantic took the Number 11 spot.
Each year, the magazine has released a list of top remodeling companies within the industry. Replacement Contractor Magazine works with Remodeling Magazine to come up with a list of 550 companies, which are then divided into four groups: "full-service remodelers, replacement or specialty contractors, insurance restoration contractors, and franchise organizations specializing in some aspect of home renovation."* Mid-Atlantic Waterproofing is considered a specialty contractor.
Within the companies listed on the Remodeling 550's Replacement Contractors list, Mid-Atlantic is listed 11th. Replacement Contractor uses the same list to announce the Top 100 Replacement Contractors of the year. Mid-Atlantic Waterproofing is proud to say that the company has been named as a leader each and every year.
Mid-Atlantic Waterproofing has specialized in basement waterproofing, foundation repair and crawl space waterproofing since 1965. Over the years the company has perfected the art of keeping basements dry. Schedule your free home inspection today.
Categorised in:
This post was written by Jane Azzinaro