August 22, 2016 3:22 pm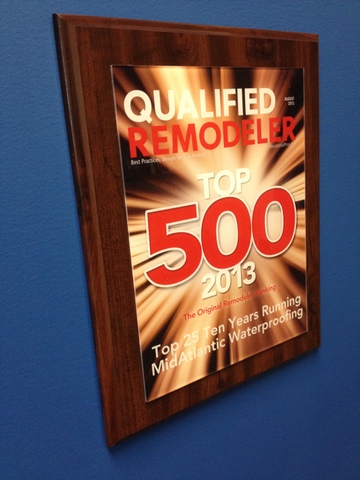 Mid-Atlantic Waterproofing has been selected by Qualified Remodeler Magazine to be recognized as one of their Top 500 Remodelers. Mid-Atlantic Waterproofing is ranked 23 this past year.
Mid-Atlantic has been recognized within the top 25 of the Magazine's Top 500 distinction for the last ten years. The company's hard work, high quality of customer service and size of their market, as well as this honor set Mid-Atlantic Waterproofing apart from all others within the waterproofing industry.
Qualified Remodeler also selected Mid-Atlantic as the Top Performer within the Waterproofing category. Each year the company strives to do better than any year before. The company has been ranked on the prestigious Top 500 list since 1997.
For the Driest Basement in Town, Call Mid-Atlantic Waterproofing.
Categorised in:
This post was written by Jane Azzinaro