August 19, 2016 9:20 pm
And why do I need one? And are there any alternatives?  These are questions homeowners frequently ask when having a sump pump installed. Waterproofing can be an expensive home improvement. Many homeowners will try to cut costs by opting out of a battery inverter system for their sump pump(s).
First, there are 2 types of battery back-up systems.  A traditional battery back-up system kicks in when power is interrupted to the sump pump.  It converts DC power to AC power. DC power is the type of power that flashlights run on. AC power is the type of power that your home appliances run on.  When a traditional battery back-up system takes over during a power outage, it behaves just like the battery in the flashlight, when you leave a flashlight on, after a while the light becomes dim and eventually runs out unless the batteries are charged or replaced. In the case of the battery back-up, as it runs the pump, it slowly depletes the batteries, dimming the power of the sump pump and hence its ability to pump water.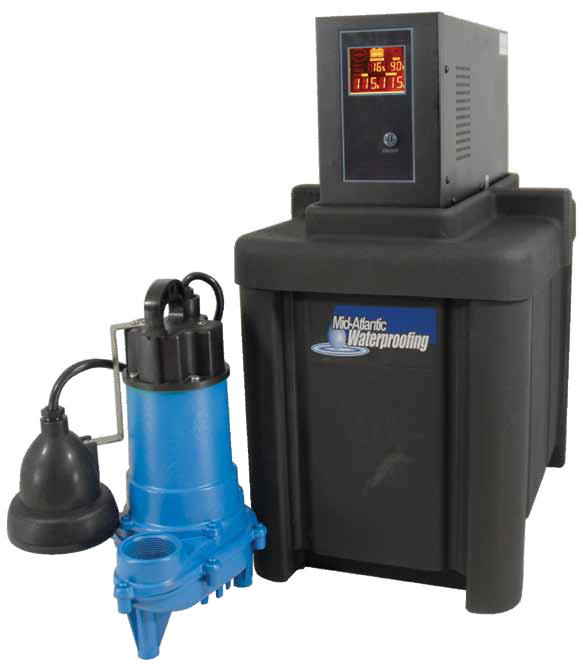 A Battery Inverter System works the same way as the traditional battery back-up system except that it runs the pump at full power until it runs out of power.  A Battery Inverter system can ensure that your sumps run at optimal efficiency all the time. This is especially important in times such as blackouts and major storms.
All homes should have an inverter system. For those homeowners who decide to cut corners, they cause their own headache down the road.
If you believe your home should have a battery inverter system- or you just have more questions, let us have an inspector come out to your home and assess the current situation. Mid-Atlantic Waterproofing's experts can provide sound advice backed by years of experience.
Categorised in: Sump Pump
This post was written by Jane Azzinaro